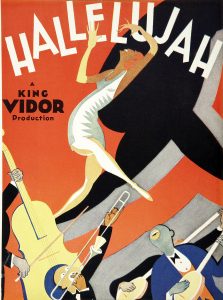 As I was watching King Vidor's Hallelujah (1929), my initial reaction of intrigue quickly disintegrated into annoyance and finally confusion. In this short reaction, I will point out what I questioned about the film. Next, I will summarize how Dr. Jessica H. Howard's article entitled Hallelujah!: Transformation in Film helped increase my understanding of the film especially in regard to the music. Finally, I will pose critical-thinking statements and questions about the notion of non-blacks telling black narratives.
The context of the film is extremely important to understand my frustrations with the film.. In the 1920's African Americans, engaged in sharecropping, this technique allowed white landowners, many of whom were former slaveholders, to pay little to no money to their black workers. At the beginning of the film, black workers are shown happily picking cotton and singing with glee. Although the film emits white characters, this cotton-picking scene felt out of touch with reality. The character "Mammy" a sweet, caring grandmother, seemed to fit almost perfectly with the character by the same name.  A mammy was depicted as a "plump, black,  usually older, happy female slave. The film mixes themes of religion, sexual temptation, and music to reveal what I describe as a sad, musical comedy.
Dr. Howard eloquently describes how Hallelujah! had a tremendous " impact on later folk musicals; it also initiated Hollywood's interest in "negro religiosity." Howard describes how Vidor created something unique in terms of audio ingenuity in film. The characters were synchronized with the music. Vidor used acapella to help the film transition in an authentic manner. Howard described how emotions of love, lust, sadness were effortlessly shared through song. The film presented a relatable dichotomy, sexual desire versus religious commitment; this was one of the reasons white audiences found the film relatable, Howard notes.
Howard also notes how Hallelujah! "exploited the use of black stereotypes and capitalized on the supposed natural connection of blacks with music ("their" music-spirituals, jazz), yet, in Altman's words, "wherever folk elements were present they were used for their picturesque qualities rather than for their ability to engender a myth of the American past" (Howard, 450). Vidor along with writers like Wanda Tucock offered only an outside perspective about black religion, spirituality, and life. How valid are films without primary representation? The black experience in the 1920s was painful and religion doubled as a survival tactic and community togetherness. Is that reality accurately conveyed in the film?