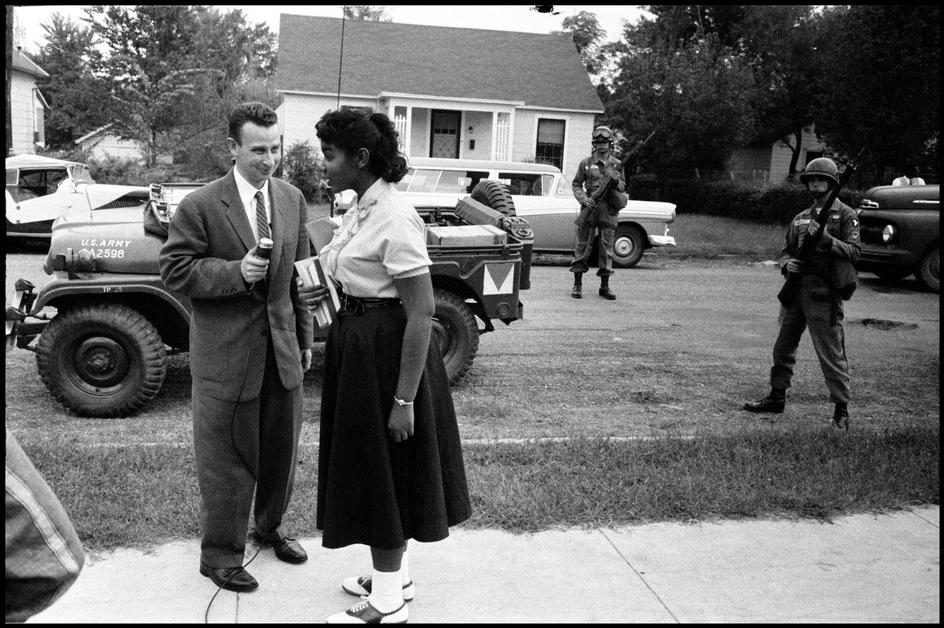 In the early stages of Warriors Don't Cry, the newspaper is seen as an everyday part of Melba's life as Will Patillo, her father, "sat in the brown leather chair, reading his newspaper and working his crossword puzzles," and Grandmother India "peer[ed] over the book and newspaper" to greet Melba (Beals 2-4). Melba even writes about the religious importance of the newspaper, in her diary:
It's important for me to read the newspaper, every single day God sends, even if I have to spend my own nickel to buy it. I have to keep up with what the men on the Supreme Court are doing.

(Beals 5).
When Melba is selected to attend Central High school, however, the newspaper, like much of Little Rock society, starts to become an extremely invasive force on her family, particularly the Arkansas Gazette. Although many argue that the newspaper serves as a potential character in this novel, I tend to view the newspaper as an institution attempting to understand, report, and track the story of The Little Rock Nine's integration into Central High.
While stepping outside for a fire drill at central high, Melba notes that "photographers and news reporters scrambled about, taking pictures and vying for scraps of information about how we were being received in class" (Beals 19). This is an early example of the news starting to really interact with Melba and learn more about her experiences, such as the phrase "vying for scraps of information." The presence of news groups also appears when Melba "approached Mrs. Bates home [and] saw news reporters [, and her] headache started up again." This quotation shows the intense pressure that the news starts to put on Melba.
As the pressure from the news increase, Melba starts to distance herself from the them as:
The articles gave specific information on what our homes were like, our backgrounds, our hobbies, our aspirations-all there was to know about us. I began to regret that exposure. Students didn't let up for one minute chirping about my folks, my mother's teaching, and things I considered personal and sacred

(Beals)
The newspapers are starting to be used by segregationist to harm Melba and her family, which shows society's ability to damage the relationship between Melba and God, as Melba previously referred to newspapers as being sent by God. As the newspaper headlines become harsher and more invasive: "STEP UP RUMORS, INCIDENTS, COMPLAINS NOTED AT SCHOOL," it is noticed that the majority of these headlines come from the Arkansas Gazette.
According to the UA Little Rock Center for Arkansas History and Culture, "Arkansas Gazette editor and owner John Netherland Heiskell believed that a newspaper was an institution first." When Melba learned that the Gazette received a Pulitzer Prize for its reporting on the Little Rock Nine, Melba stated that
As I read this article, I wondered when we would get big prizes for what we were doing. After all, this guy was just observing our troubles from afar and writing about them. Not once did I see him spend a day in hell with us
At this point, the relationship that Melba once had with Newspapers seems to be broken. I'm curious to explore how newspapers as institutions impacted the relationship that Melba had with newspapers before her time at central high, the Newspapers were sent from God