The most important aspect of a films conclusion is how it presents general themes, as well as connecting directly to the present day. What an audience will remember most is what the film producers left them thinking, whether it be good, bad, or motivational. This is why I found the conclusion to the film Boycott more powerful than that of Spike Lee's Four Little Girls. The film Boycott concludes with Martin Luther King Jr. separating himself from the group, although not in a malicious way, as the rest of the supporters in his group pack into a bus. Although there are many ways this conclusion can be interpreted, it is evident that the film producer is trying to present the audience with multiple important messages to leave with.
The first theme is unity. This is evident from grouping all the members of the community into one space, forced to work together in a confined location. The creators are showing the audience that success in political movements can only be achieved when all parts of the group are working together on a common goal. Additionally, by isolating Martin Luther King Jr., this also shows the audience the importance of leadership. Without proper planning and organization, political movements will turn into random, uncontrolled, and sometimes violent events that will not produce change. Lastly, the conclusion also shows the audience just how valuable each person's opinion is. Whether you are the quietest or least educated individual, people will listen and your voice has power. This conclusion connects directly to the present day evident by the political movements such as BLM that are happening across the globe. These themes can help assist and motivate our nation to push and achieve for political change that is desperately needed.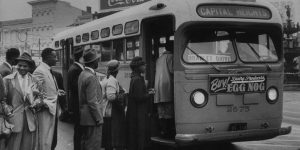 This image represents the conclusion of the film "Boycott", where the main theme of unity and teamwork is presented.