One of my favorite units in this class was the "When Faith Meets Activism" section of our syllabus, during which we read works like Warriors Don't Cry and The Autobiography of Malcolm X. The literature and film in this unit affected how I personally see activism and will stick with me long after I leave Wooster to (hopefully!) continue working on political campaigns and community activism. When I was thinking of potential works to add to our class syllabus for next time, I wanted to expand on this section and the idea of faith and activism combined.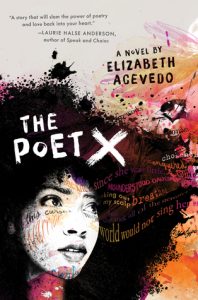 While I have not personally read this book yet, the Young Adult novel The Poet X by Elizabeth Acevedo sounds like it would be an intriguing add to our English 210 syllabus–and specifically, the "When Faith Meets Activism" unit. I love reading YA novels during breaks from school because they tend to have more uplifting endings/messages, which are comforting to enjoy for a few weeks while I try to relax, and this book has been at the top of my list for winter break! The Poet X was released in 2018 and won the National Book Award for Young People's Literature that year. Below is a short summary of the novel from Goodreads:
"Xiomara Batista feels unheard and unable to hide in her Harlem neighborhood. Ever since her body grew into curves, she has learned to let her fists and her fierceness do the talking. But Xiomara has plenty she wants to say, and she pours all her frustration and passion onto the pages of a leather notebook, reciting the words to herself like prayers—especially after she catches feelings for a boy in her bio class named Aman, who her family can never know about. With Mami's determination to force her daughter to obey the laws of the church, Xiomara understands that her thoughts are best kept to herself. So when she is invited to join her school's slam poetry club, she doesn't know how she could ever attend without her mami finding out, much less speak her words out loud. But still, she can't stop thinking about performing her poems. Because in the face of a world that may not want to hear her, Xiomara refuses to be silent." Goodreads
Based on the summary, I think this novel would fit really well with our class discussions throughout the semester, especially on the note of youth activism–which we touched on after reading/watching texts like 4 Little Girls and Warriors Don't Cry. Reading a novel meant for kids/teenagers would also broaden the scope of our class, and show if the approach to religion and sexuality has changed from the characters in our older works to Gen Z. I also think this novel relates back to what our class got into recently with Go Tell It on the Mountain and the poem "Guilt, Desire, and Love" since the battle between faith and desire seems to be apparent, so it could fit into the syllabus near the end as well. The final reason I'm interested in this novel is because it blends prose with poetry–the original poetry of the novel's main character–in order to tell Xiomara's story. Many students in our class seemed to be interested in the works of poetry we read, like "Guilt, Desire, and Love" and "The Preacher Ruminates Behind the Sermon," so this novel would add in more poetry to analyze alongside the novel as a whole.
I'm excited to read this book over my winter break, and hope that this is a good recommendation for anyone else interested in YA novels!